CairnGorm Mountain's Snowsports Area is made up of two halves: Coire Cas and Coire na Ciste. While served by two chairlifts and two surface lifts, Coire na Ciste became a haven for intermediate, advanced and expert skiers and snowboarders, serving a unique variety of extensive natural terrain of the sort that is not available in Coire Cas.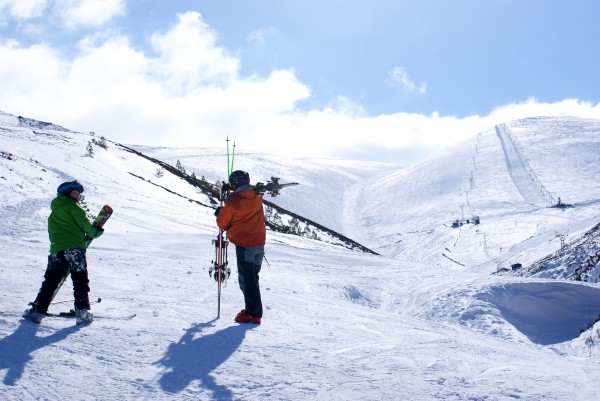 But all is not well. The introduction of a 'core lifts policy' in the middle of the last decade saw an operational emphasis placed on Coire Cas. In 2005 CairnGorm Mountain Limited (CML) announced that the Coire na Ciste Chairlifts and the Aonach Poma were to be decommissioned, stating that these lifts were 'obsolete'. They stated that the West Wall Poma alone was sufficient to serve the Coire na Ciste area. This operational move has been strongly opposed by those who believe that the West Wall Poma alone does not adequately serve Coire na Ciste.
Area served:
Coire na Ciste provides an extensive area for intermediate-advanced skiers and snowboarders, and accounts for half of the CairnGorm ski area. The 'core runs' in Coire na Ciste essentially consist of:
Aonach Bowl (Red)
Chair Run / Ryvoan (Red)
Ciste Gully (Red)
East Wall No. 1 Gully (off-piste – Red)
East Wall No. 2 Gully (off-piste – Black)
Lower Aonach (Blue)
West Wall (Black)
More minor runs include the Aonach ("Rita's") Ridge (off-piste – Blue), Coire Laogh Mor Return (off-piste – Blue) fenceline, the Lower Ciste (Green) run and Over Yonder (Blue), of which the former three all return to the Ciste Carpark. The location of these runs in relation to the uplift are all demonstrated on the map below.


Image based on Ordnance Survey map data
Uplift in question:
The Coire na Ciste Chairlifts are comprised of the Coire na Ciste Chairlift and the West Wall Chairlift – a two-stage, fixed grip GMD Mueller chairlift.
| | | | | |
| --- | --- | --- | --- | --- |
| Lift name | Length (m) | Vertical (m) | Capacity (skiers/hr) | Date built |
| West Wall Chairlift | 863 | 280 | 849 | Feb 1974 |
| Coire na Ciste Chairlift | 953 | 145 | 596* | Apr 1974 |
| West Wall Poma | 1641 | 365 | 784 | Jan 1986 |
* Design capacity: 1000 skiers/hr